Monday Communiqué: 07/24/17
Why, hello Monday - we meet again....
On the Blog This Week
Wednesday - I'm so excited to share this post I've been working on entitled "Money Saving Tips"! You will find some easy changes to implement into your daily life to save money, along with some extreme cost cutting tips in case you're in need of something more drastic!
Friday - If you're a fan of Dave Ramsey, or a fan of any financial guru, you've definitely heard the concept of a "debt snowball". In my article going live on Friday I use the debt snowball example for home and personal organization entitled "Organizational Snowball"!
On the Blog Last Week
Incase you missed something last week I posted two articles!
Guest Post - A fantastic piece written by the beautiful Erin Hendrickson on how to create a vacation capsule wardrobe!
Combating Burnout - An impromptu article that I wrote entitled "Combating Burnout" with tips on how you can get through a tough season of burnout in your life!
Podcast Love
Housewifery - You guys know how much I love these ladies, and they are back this week with a new episode entitled "Summer Blues"! So excited to jump into this one!
Creative Empire - My new favorite creative boss podcast has a new episode out entitled "How to face burnout, with Lauren Hooker" which I'm excited to tune in to!
The Simple Sophisticate - Shannon Ables is back with a new podcast entitled "How to Enjoy Eating Every Day and Love the Results" which I am so excited to listen to!
Video's of the Week
Dave Ramsey - I can't say enough amazing things about Dave Ramsey, so I thought I would share this youtube video I found entitled "Dave Ramsey - How to Get out of Debt and Be Financially Successful". Check it out for some motivation!
Jennifer L. Scott - Jennifer has an awesome youtube video out entitled "Summer Chat | Favorites + Taking My Summer Break" which is amazing (especially the part on how much work blogging and videos take!) I love these videos with Jennifer, I always feel like I'm sitting across from her with a cup of coffee just having amazing conversation lol! (What are your thoughts on her cliffhangers!? I'm hoping for a new book!)
Book Recommendation!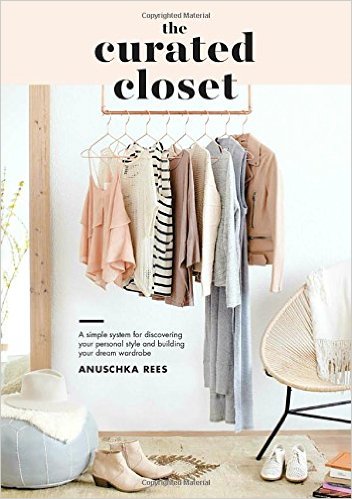 Sharing one of my favorite books from Anuschka Rees. If you are looking at going more in depth with your wardrobe this is an absolute must read!
I hope you had a fantastic weekend and are jumping into a new week excited and refreshed! I'm focusing this week on writing and then hopefully returning to my side projects next week.
'An Organized Life' uses affiliate links through Amazon at no cost to you. If you click and purchase a product from an affiliate link or advertisement, I receive a small commission. This does not increase the price you pay or effect the sale in any way. Huge thank you to anyone who has used an affiliate link to support this site!